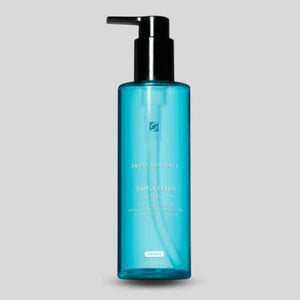 Product Details
A powerful gel cleanser, Simply Clean contains a light acid that stimulates the natural enzymes that dissolve the bonds that bind dead cells to the skin's surface, in turn exfoliating, refining the appearance of pores, and improving texture. Enriched with botanical extracts to help calm the skin, this cleanser efficiently removes waterproof makeup and excess oil to leave the skin feeling clean and primed for professional treatments.
HEPES exfoliates and refines skin texture.
Soothes, calms, hydrates and softens the skin.
Removes waterproof eye makeup and long-wear face makeup.
Ideal for daily use and as a complement to professional procedures, such as chemical peels, intense pulsed light (IPL), non-ablative lasers, microdermabrasion, microneedling, and injectables.
Non-comedogenic, paraben-, alcohol-, dye-, fragrance-, sulfate-, soap-, and gluten-free.